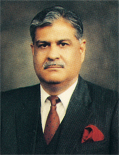 We have enjoyed servicing the Equestrian Industry Globally for the past 40 years. It is satisfying to imagine the growth of Moonica as a manufacturer always striving to achieve 100% customer satisfaction. A company, which started as a twenty employee operation has now turned into a strong 2,000 plus work force, with completely educated management. Our manufacturing facility has the capacity of developing molds from scratch till the end product all under one roof. We also have an in-house facility to Chrome Plate/Nickle Plate/Brass Platting, Powder Coating and Browning of international quality standards.
We owe everything to our customers who have helped us achieve mastery on so many of first time products developed exclusively for them. The patience and honesty that Moonica has prescribed to over the past 40 years, has given it a solid foundation to be proud of its name, global business network as well as its reputation, which has almost always preceded its name. The joy of a business relationship of tremendous growth witnessed both by our customers as well as us is surely cherishable. Being one of the largest manufacturer of Stainless Steel/Copper/Mild Steel/Solid Brass/Aluminum/ Magnesium Bronze/Cast Iron and German Silver in the world allows us to be most cost effective, while achieving the highest quality in the world. The great belief in our products allows us to provide our customers with Product Liability Insurance from a USA based Insurance Company.
It is with great honor that we present you to veiw our website which has an extensive range of bits, stirrups, and spurs meticulously designed to keep in mind the horse and the rider. We wish for our business relationship to further grow with our highly valued clients and expand to attract other customers.
We hope you enjoy viewing our website and look forward to your any business inquiry.
Best Regards,
Major (Retd) Nisar A. Ghuman
Chief Executive Officer
Moonica Corporation